STACKABLE BAR TABLES WITH THREE METAL LEGS AND PRACTICAL easy-to-clean TOP
HIGH TABLES FOR BAR, CANTEEN, RESTAURANTS, CATERING AND REFRESHMENTS
USED FOR:

BAR, bistro, RESTAURANT, PUB, WINE-BAR, REFRESHMENTS, EVENTS, CANTEEN, CATERING, AUTOGRILL

FEATURES:

ROUND, STACKABLE, BILAMINATED HPL TOP, FOLDING, TABLE WITH THREE LEGS, PRACTICAL TO CLEAN AND SANITIZE, UNIQUE DESIGN

FINISHES:

BLACK / WHITE BILAMINATED HPL WOOD TABLE TOP, CHROMED STEEL OR BLACK / WHITE PAINTED legs
tables Polar
Are you the owner of a bar, wine-bar, bistro, pizzeria or diner? Are you looking for round high tables with folding top where you can serve a coffee or drink? "Polar" tables can be defined as functional furnishing accessories, with unconventional and original design; they're available as high bar tables and round low tables, they have a fixed or folding top that folds up by means of a practical button placed under the support surface. Once folded, the tables can be stacked vertically and placed along a wall or moved to another room. The family of tables Polar is characterized by a round surface with a diameter of 1200 mm, 790 mm and 690 mm, a steel frame and die-cast aluminum joints. The three-legged base is made of a steel tube diameter 35 mm chromed or painted with black or white epoxy powders, with a unique and distinctive design that is suitable for bar-bistros, restaurants, motorway restaurants, pizzerias, and wine bars.
1.
STACKABLE stackable high tables with folding top
The bar high tables "Polar" are designed to efficiently furnish your public place such as a bar, restaurant, motorway restaurant, pizzeria and wine bar. Available as high and low tables, they have a fixed or folding top that reclines by means of a button placed under the top: this makes the tables vertically stackable once the space for customers has to be freed for cleaning or other initiatives.
2.
PRACTICAL EASILY CLEANABLE HIGH BAR TABLE
The high tables Polar have been designed by Leyform to meet the cleanliness and practicality requirements of bars, wine-bars, motorway restaurants, pizzerias and restaurants with large flows of customers as they adopt a top that is made of high pressure laminate (HPL), a versatile, homogeneous, non-porous material with a surface finish that can be easily cleaned with a damp cloth, perfect for breakfast or to place glasses, drinks and snacks on it.
3.
DESIGN HIGH TABLEs TO FURNISH WITH STYLE
The high bar tables Polar have been designed to furnish contemporary rooms with the most varied styles such as industrial, shabby chic, minimal, rustic, modern, classic, eclectic, Scandinavian and Nordic; they give the environment a unique and distinguishable character and are considered essential objects for covered terraces and trendy places. The unique design of this tables makes them practical, stylish and durable, capable of withstanding continuous daily use.
BAR FOLDING TABLE POLAR IN AR+
View the table hight for bar and pub Polar with augmented reality. Select your device, frame the area of interest from your IOS or Android phone and click to place folding round high tables for bar, pub and restaurant Polar in the space*.
Apple Ios Safari
Android Browser
*Compatible with iPhone 6S or higher and Android smartphones that support the ARCore app.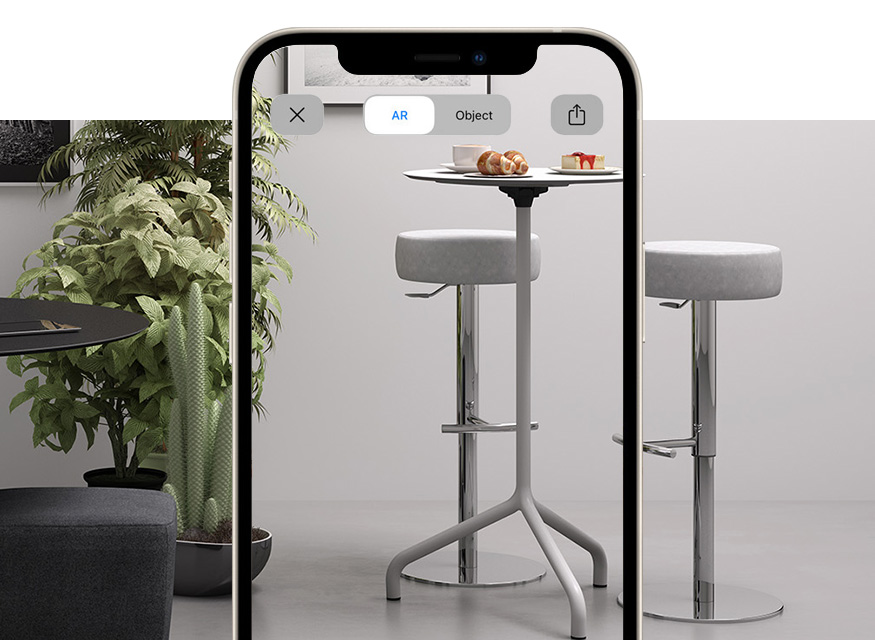 DETAILS
IMAGES AND EMOTIONS
Uses, characteristics, functionality and peculiarities.
Polar, high bar tables with a round shape that help the flow of customers
In the catering sector, we would like to serve as many people as possible at each table, without neglecting the clients; while the more modern and informal restaurants usually manage large flows of customers, the more luxurious places aim to take care of the guest experience more. With this in mind, the Polar tables help the restaurateur to serve as many tables as possible at each service as the round shape and the different sizes available favor the circulation of customers within the restaurant.
High bar tables: unconventional furnishing accessories, practical to clean, with an original and unique design
High and low tables for bars and restaurant dining rooms with fixed or folding top which tilts by means of a practical button placed under the table top
Practical tables with folding top that makes them vertically stackable along a wall or stored in another room
High bar tables with supporting steel structure with a diameter of 35 mm and die-cast aluminum joints, painted with black or white epoxy powders or chromed
High tables with steel tube legs and a unique design that adapts to bars, restaurants, motorway restaurants, pizzerias and wine bars
Stackable high and low tables suitable for industrial, shabby chic, minimal, eclectic, rustic, modern, classic, Scandinavian and Nordic style furnishings
Round-shaped tables with different sizes available that facilitate the flow of customers within the bar
Similar multi-Purpose community tables
Training nesting tables with folding top - Arno-5
|
Restaurant lunchroom stacking tables with folding legs - Arno-4
|
Lunchroom and conference room tables - Arno-3
|
Lecture hall continuous writing bench
|
Tables for chairs in training, confecence and seminar room EOS plus
|
Folding and round high tables for bar pub restaurant Polar
|
Single seater desk for school and training room Snap
Community tables by purpose
Stacking and nesting tables with folding legs
|
Waiting rooms tables
|
Tables for community centres