CHAIRS, ARMCHAIRS AND SOFAS FOR MEETING AND CONFERENCE AREAS
SOFAS AND ARMCHAIRS FOR CONFERENCES, MEETINGS AND TRAINING AREAS
USED FOR:

CONFERENCE ROOMS, MEETING AND TRAINING AREAS

FEATURES:

STACKABLE, TIP-UP WRITING TABLET, FIRE RETARDANT, NESTING, COMFORTABLE SEAT ALSO FOR LONG TIME MEETINGS

AVAILABLE COVERS:

FIRE RETARDANT POlYESTER FABRIC TREVIRA CS, PVC, VINYL, SIMILIAR LEATHER, FULL GRAIN LEATHER, VIRGIN WOOL
Reef
Primarily conceived for conference halls, the conference tub seating with writing tablet Reef furnishes with extreme simplicity and freshness, thanks to its contemporary and dynamic lines and to its unique style. The tablet is an additional option which improves the functionality, versatility and productivity: absolutely perfect for large didactic areas. In just four simple movements, the conference tub seat with writing tablet Reef can fold away for easy storage and to open up space for a different use of the room. In the office environment the conference tub seating with writing tablet Reef is well suited in creating sophisticated waiting areas or for being used with great elegance as a visitor's chair and meeting room chair.
1.
The folding tub seating with writing tablet Reef is a foldable tub armchair - available also with fixed arms - that can be equipped with folding tip-up writing tablet; it is designed to meet the functional needs of multipurpose communication areas with frequent and rapid changes in layout, like congresses, seminars, conferences and meetings for hotels, training centers and waiting areas.
2.
The side arms can be folded up to overlap the backrest thanks to an unique mechanism so that at the end of meetings you can easily close the armchairs and stack them for storage into another room. Lightweight and original for the essential design, the conference tub seating with writing tablet Reef is available in a high variety of colours and covers such as leather, vinyl, wool, and fire retardant fabric.
3.
When closed, it is easy to store and handle for its next use; when open, it is a very comfortable armchair, with a variety of useful accessories, ideal for auditorium, conference halls, training centers, meeting and seminar rooms but also waiting areas. Reef Auditorium seating not only entails important values in design and ergonomics, it also has great content in flexibility and practicality of use.
REEF TUBE ARMCHAIR IN AR+
View REEF conference tub armchair with augmented reality. Select your device, frame the area of interest from your IOS or Android phone and click to place REEF tub armchair for conference, training and seminars in the space*.
Apple Ios Safari
Android Browser
*Compatible with iPhone 6S or higher and Android smartphones that support the ARCore app.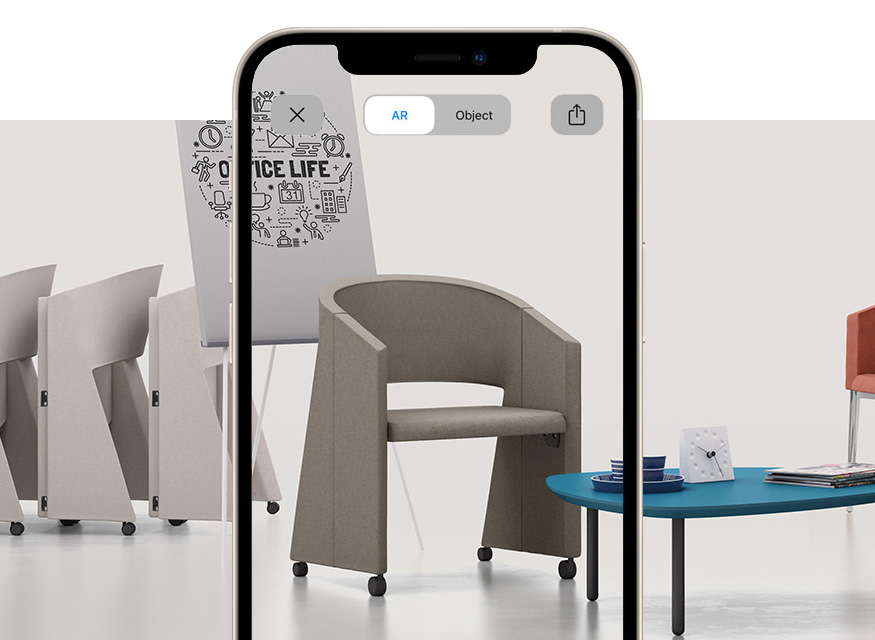 DETAILS
IMAGES AND EMOTIONS
Uses, characteristics, functionality and peculiarities.