MODERN DESIGN 4 LEGS CHAIR WITH WOODEN SHELL
ARMCHAIR WITH WRITING TABLET FOR TRAINING AND CONFERENCE ROOM
USED FOR:

HOME-OFFICE, KITCHEN, PUBLIC AREAS, LIVING ROOMS, GAME ROOMS, HOTEL, RESTAURANT, BAR

FEATURES:

MODERN AND UNIQUE STYLE, COmFORTABLE SEAT, EASY TO CLEAN, LIGHT CHAIR, STACKABLE, WITH WRITING TABLET

AVAILABLE COVERS:

FIRE RETARDANT FABRIC, ECO-LEATHER, real LEATHER, PVC, VIRGIN WOOL
zerosedici wood
The wide Zerosedici collection includes now a wood seat version: a solid but slim beech or oak shell, equipped with different base and accessory options, which complete the whole Zerosedici series. Zerosedici wood by Leyform is a chair perfect to set up conference room and meeting area and give a brilliant and stylist design to the environment keeping the comfort and functionality that this kind of chairs require. When you are taking a course or you are in a conference, it is important to feel comfortable, otherwise it would be easy to lose concentration and the focus. Choosing the right chairs in this situation is essential to create a comfortable environment and keep up the attention of the audience.
1.
unique design in an elegant and modern wooden shell
Design Wooden chairs to supply meeting areas and events like conference and training. Zerosedici Wood is the new collection developed by Leyform and suitable for meeting, training, conference or other events where - in addition to comfort - it is important to have a unique design chair.
2.
choose your favourite options and create your chair
Zerosedici wood is available in many different configurations: with or without armrests, with upholstered pad and writing tablet, giving a full range of choices to our client and satisfy every request. Zerosedici Wood can have 4 steel legs or 4 wooden legs, swivel or bench version to emphasize the customizability of the collection.
3.
tailor-made high quality products, manufactured in Italy
Zerosedici Wood chairs are perfect for every type of environment, from big conference rooms to meeting tables, giving a modern and unique style to the room. The collection is entirely designed by Leyform and manufactured in Italy, ensuring top quality community seating and the worldwide known stand out design.
DETAILS
IMAGES AND EMOTIONS
Uses, characteristics, functionality and peculiarities.
ZEROSEDICI WOOD 4 LEGS CHAIR IN AR+
View Zerosedici wood 4 legs chair for training and conference room with augmented reality. Select your device, frame the area of interest from your IOS or Android phone and click to place Zerosedici wood 4 legs chair in the space*.
Apple Ios Safari
Android Browser
*Compatible with iPhone 6S or higher and Android smartphones that support the ARCore app.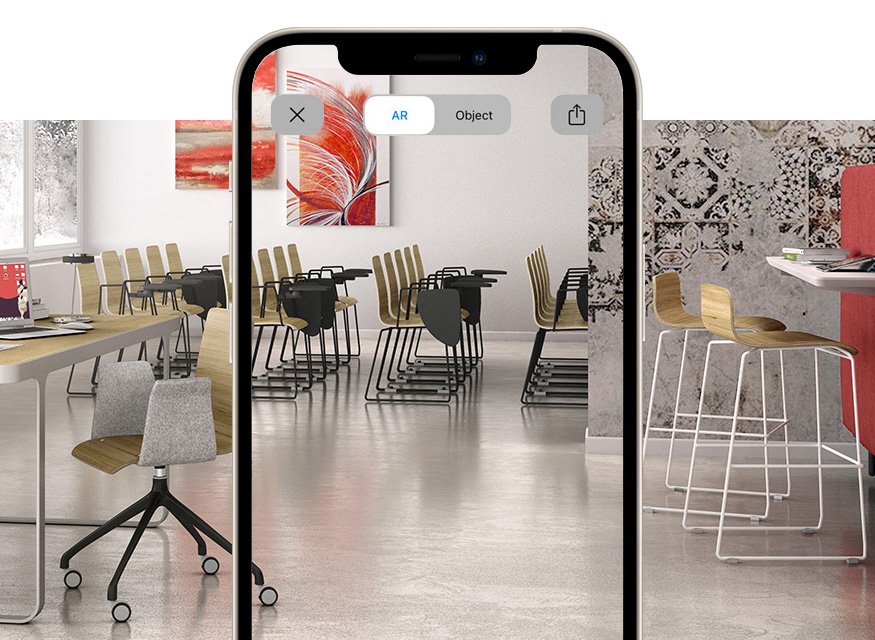 Wood chairs with unique design and style for training, conference and meeting rooms
Zerosedici Wood collection is available with writing tablet, useful to take notes or use the laptop while attending a conference, meeting or training. The tablet has a foldaway antipanic system, easy and functional to use in conference, congress and training room. Zerosedici Wood chairs for conference, training and academic use are stackable and then perfect for multipurpose rooms, congress or other community events. They are functional and easy to move, as they are stackable up to 5 pieces and can be easily taken out after use. Zerosedici Wood chairs are also available in the swivel version with a design base and castors, useful around a meeting table. Zerosedici Wood chairs are available in different options and the seat can be natural painted in beechwood or oak with horizontal veins. As our entire range, Zerosedici Wood collection complies with European standards for durability, safety and environment to ensure top quality products.
Read more...
Stackable wood chairs for training, conference and congress rooms easy to move
Wood chair with writing tablet, perfect for meeting rooms, conferences and training courses
Comfortable Wood chair available with writing tablet and designed to ensure attention and freshness of the participants in conference and meeting
Design chair in beechwood curved multilayer seat natural painted in beechwood or oak with horizontal veins
Chairs for conference, training room, school and university with writing tablets to take notes and use laptop
Design chair in curved multilayer beechwood with a seat and back designed to ensure the best seating comfort
Wood chair for conference, meeting and university with armrests and upholstered seat pad for maximum comfort
Design wood chairs for meeting and training room, stackable and easy to move
Lecture hall and community seating, similar models
Stacking dining chairs with mesh on the back Wiki-RE 4G
|
Stacking nesting seating with casters and writing tablet Key-ok
|
Stacking chairs for visitors and waiting areas wiki-4g
|
Stacking dining chairs with chrome legs Wendy
|
Stacking chairs with single wooden shell and linking device Cristallo
|
Stacking plastic chars with arms Greta
|
Stacking lecture room seating LaiLa 4 legs
|
Stacking chairs for bars, restaurant and community areas Gardena
|
Stacking chairs for meeting, conference and trainignrooms Valeria
|
Stackable chairs for churches and meeting rooms halI I-Like
|
Stacking folding chairs and seats Arcade
|
Plastic lecture room seating with tip-up tablet LaMia
|
Lecture hall stacking seating with writing tablet Cortina
|
Aluminum lecture hall seating with writing tablet Programma UNO
|
Chairs for cuisine island and living table Zerosedici 4G with wooden legs
|
Multi-use stacking chairs for home-office Zerosedici 4G
|
Training and conference seating with writing tablet Zerosedici sled base
|
Wooden seating for training and conference room Zerosedici Wood
Similar lecture hall and community seating by purpose
Stacking chairs
|
Linking chairs
|
Seating and stacking chairs for community and congress areas
|
Chairs for bar, pub, restaurant, fastfood
|
Chairs and sofas for nursing, rest-home, hotels and medical centres
|
Chairs and stools for hotel, contract and home
|
Chairs for conference, lecture hall and seminar areas
|
Chairs for hotel, congress areas, lecture and church hall
|
Chairs for catering and fastfood
|
Stackable and folding chairs
|
Chairs for restaurant lunchrooms, lounges and breakrooms