customizable multi-purpose product
elegant armchairs for prestigious lounges
USED FOR:

OFFICE FRONT DESK, VISITORS, GUESTS, MEETING, CLIENTs, RECEPTION, BOARDROOM , LOUNGE

FEATURES:

SLED BASE, MODERN AND ELEGANt DESIGN, STACKING, COmFORTABLE FOR LONG OR SHORT WAITING

AVAILABLE COVERS:

FIRE RETARDANT POlYESTER FABRIC, PVC, VINYL, SIMILIAR LEATHER, FULL GRAIN LEATHER, VIRGIN WOOL
samba
Harmonious curves and minimal style, Samba: a timeless armchair with comfortable and enveloping lines. Unbelievable comfort and design, a multi-purpose product you can customize and adapt to your lifestyle, really for all tastes. There are meeting rooms with a formal and sober furniture and others that use a more informal and contemporary design, which wants to stimulate creativity through a more confidential relationship between the meeting participants; Samba swivel chairs with automatic return find place within these areas, where furniture and design come together in a single emotional solution, ensuring comfort and ergonomics for long meetings, training or work sessions.
1.
elegant chairs for conference rooms and waiting areas
The choice of chairs and armchairs for the office furniture is not limited to task or executive workstations; in fact, sometimes you must choose swivel chairs in addition to seats for waiting areas, offices entrances, reception areas, along corridors or lounges.
2.
functionality combined with class and a high comfort
Therefore, in many offices it is necessary to evaluate and choose also swivel armchairs with automatic return for meeting rooms which host training or video presentations or chairs for lounge areas where guests can wait before a meeting while having a drink.
3.
soft shapes that envelop your body and make you feel at ease
Samba visitor chair boasts clean lines and harmony in its curves. It features two details that make Samba different from all other swivel chairs for meeting, lobby, lounge or waiting room chairs: its cozy and inviting shape.
SAMBA VISITOR ARMCHAIR IN AR+
View Samba visitor armchair with augmented reality. Select your device, frame the area of interest from your IOS or Android phone and click to place Samba in the space*.
Apple Ios Safari
Android Browser
*Compatible with iPhone 6S or higher and Android smartphones that support the ARCore app.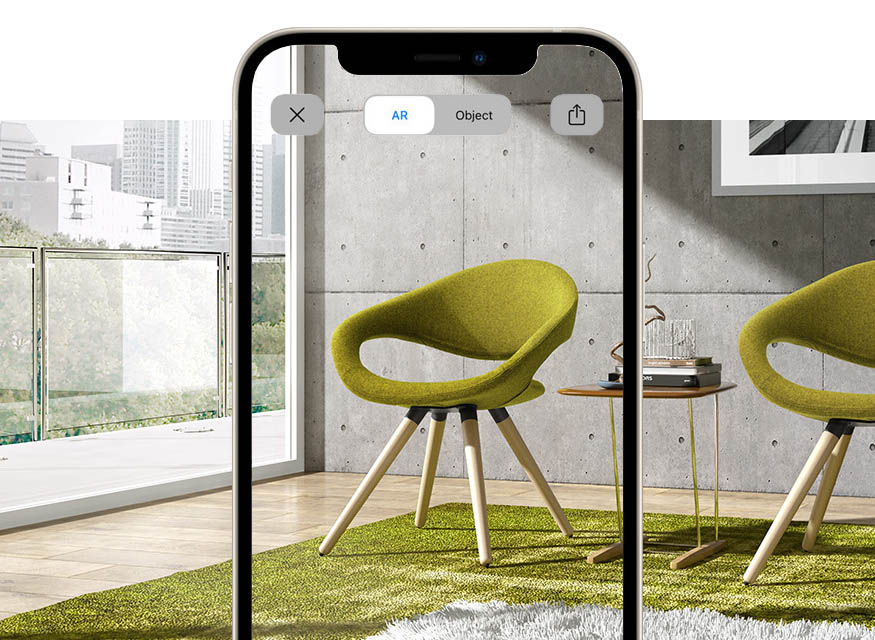 DETAILS
IMAGES AND EMOTIONS
Uses, characteristics, functionality and peculiarities.