CONTEMPORARY DESIGN OFFICE CHAIRS
EXECUTIVE ARMCHAIRS FOR MODERN OFFICE FURNITURE
USED FOR:

HIGH END MODERN OFFICE FURNITURE, MINIMAL DESIGN DESK, CONTEMPORARY STYLE OFFICES

FEATURES:

MODERN AND MINIMAL DESIGN mesh CHAIR, WITH ARMS, SWIVEL WITH ADJUSTABLE SEAT, WITH HEADREST, AVAILABLE AS VISITOR, WITH CASTORS

AVAILABLE COVERS:

MESH IN 4 COLOURS: BLACK, LIGHT GREY, ANTHRACITE, WHITE
origami re
High back mesh office chairs, conference and boardroom mesh seating, Origami RE combines the essential and ergonomic design of Origami collection with a breathable mesh seat and backrest, making this chair extremely comfortable for intensive use. Many of us spend more time sitting down than standing on our feet, and we make important decisions or business deals while we feel at one with a chair. ORIGAMI RE mesh office chair consists of a robust chromed steel frame with mesh on seat/back. Its presence graces the offices and boardrooms of many large corporations and illustrious residences, making it one of the most preferred office chairs among those who appreciate style and substance.
1.
mesh backrest breathable chair in different colors
ORIGAMI-RE incorporates a PVC mesh designed to facilitate an increase in airflow. Available in four colours (black, light grey, white and charcoal grey), this armchair consists of a sturdy chromed steel frame, a full pneumatic (gas) height and swivel adjustment.
2.
ergonomic chair it ensures high comfort and a correct posture
The ergonomics of its design cradles the body and supports a correct posture, allowing a supreme level of comfort for extended periods. It is therefore helpful to focus on work, study and group meetings. A version without armrests for all models and the benches complete this outstanding range.
3.
design & care come together in this unique made-in-italy seat
ORIGAMI-RE has a distinctive profile that makes this product one of the most stylish design armchair ever produced. Luxurious and highly functional, this spectacular chair brings an air of professionalism and quality to offices, conference rooms, receptions and home studies.
ORIGAMI RE BOARDROOM ARMCHAIR IN AR+
Origami RE executive and visitor boardroom mesh office chair with augmented reality. Select your device, frame the area of interest from your IOS or Android phone and click to place The mesh executive armchair Origami RE in the space*.
Apple Ios Safari
Android Browser
*Compatible with iPhone 6S or higher and Android smartphones that support the ARCore app.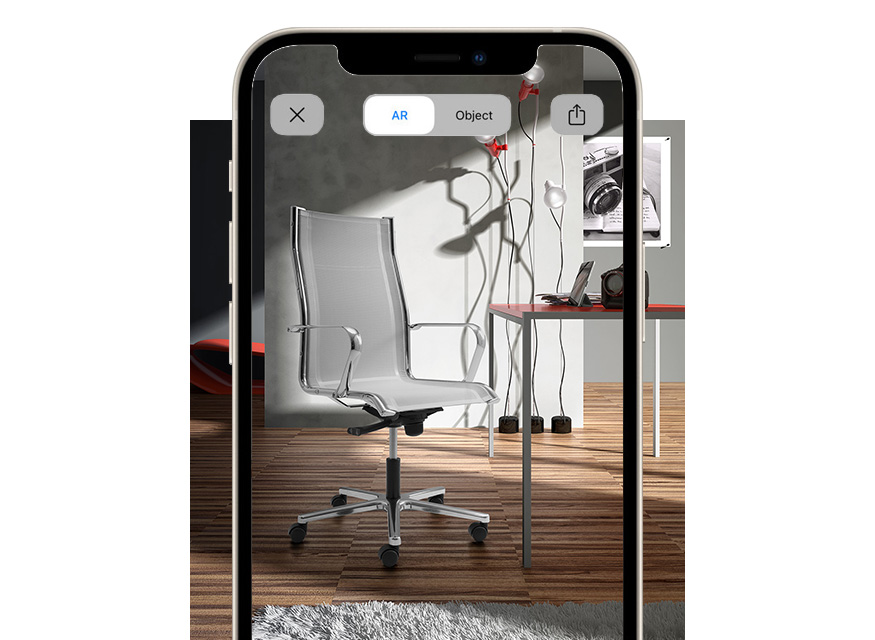 DETAILS
IMAGES AND EMOTIONS
Uses, characteristics, functionality and peculiarities.
ORIGAMI-RE, a resistant and inviting office chair
Origami RE mesh chair is available with different mechanism options ( multilock antipanic tilt mechanism with tension control, single lock tilt or simply with height adjustment ) and as visitor chair with 5 star base/ glides and automatic return device with anti-shock device or sled base.